Sorry I've been busy the last week! But I didn't forget about you guys. In fact, I have a nice collection of images to cover day, night, and LATE night events throughout the past few days.
Day 15 -
We took our good family friend

George

out for dinner, to thank him for helping Derek when his car broke down. He's a big fan of the ladies, and we don't disagr
ee...so we all decided to swing by our local

Hooters

.
We shared some wings, shared some stor
ies, watched the Mavericks get a win, and then saw
some dude d
ancing around for his birthday

.

As usual, the

pretty young ladies

made for good company; our server, however, got fired because the booth next to us was complaining. Poor dear.
---
Day 16 -
To wind down the week of training, I took Derek to a few of the

Fry Street

ba
rs to take in some of the local flavor. I figured he might want to decide for himself where wa
s best suited for him.
At

Lucky Lou's

we saw three guys play the highest stacked g
ame of (giant)

Jenga

we'd ever seen. The stack was almost as tall as we were when it finally toppled
. I think Derek decided Lou's got an A+.
Later we went to

The Garage

; it was crowded, loud, and watered down as usual. But thankfully, I hav
e an affinity for picking up on fun events. From across the bar, I had a feeling a fight was about to start, so I rushed in to snap a

quick pic

of this

guy arguing with his girlfriend

who had apparently

cheated on him with one of their friends

. I would have taken a picture of the other guy, but he had a death stare, and kept asking where his gun was.
---
Day 17 -
I got a visit
from my friend

Mike

from Bowling Green, Kentucky,
and he brought a

few friends

with him to "see Texas" on a vacation. They were being shown around by their friend

Brittany

, from Decatur.
I don't get to see Mike often, so it was a nice surprise. His friends were really funny, and nerdy too. Later on, Derek and I would go pick up Duran from the airport.
---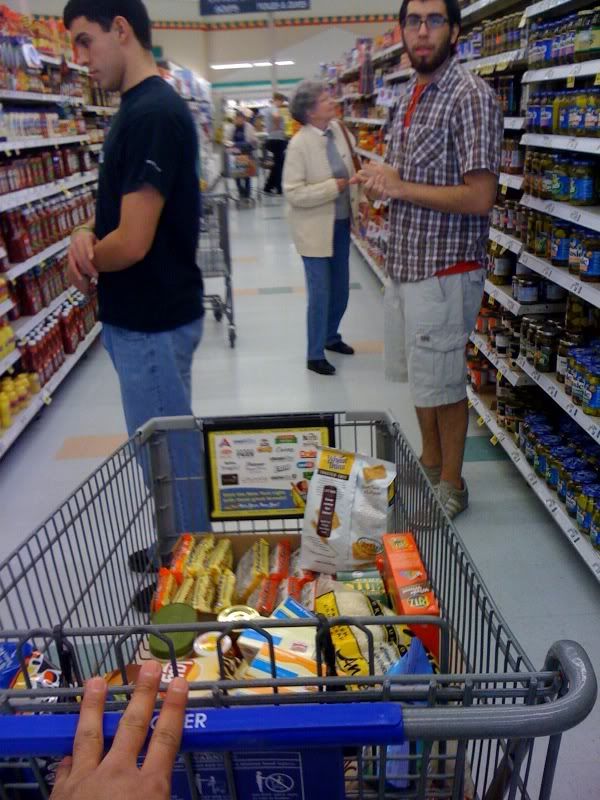 Day 18 -
My brothers and I set a goal to finish as much work around the apartment as we could. We made a quick

grocery

list -- of both typical college and some grown-up items -- and headed to

Kroger

.

We ran up a rather large bill, but we were glad to get it out of the way.
Now we have
food
to last us weeks.
---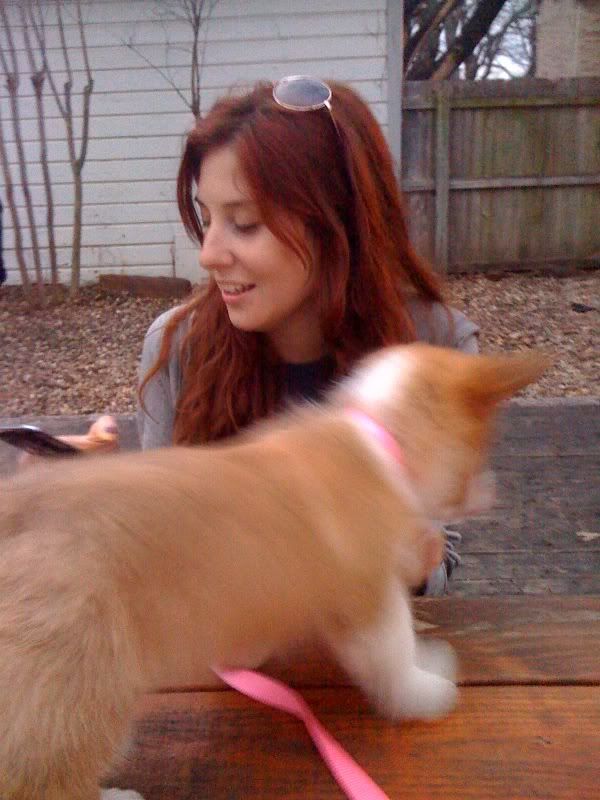 Day 19 -
I finally got to see one of my best friends,

Jessica

, for the first time since December. She got a

new puppy

from her boyfriend, Kyle -- a

welsh corgi

! Her name is

Daisy

, but I call her

Ein

.
She told me about the cruise her family took, we caught up on the goings-on in our lives, and then we hung out with her friend Ben. She had brought him a

collection of seashells

, and they have a new interesting story behind them.
She collected them last week, off the coast of

Haiti

. They had apparently been docked there some time around when the earthquake happened, but on the

farthest side from the epicenter

! I'm glad she's OK and happy to have my

wingwoman

back.